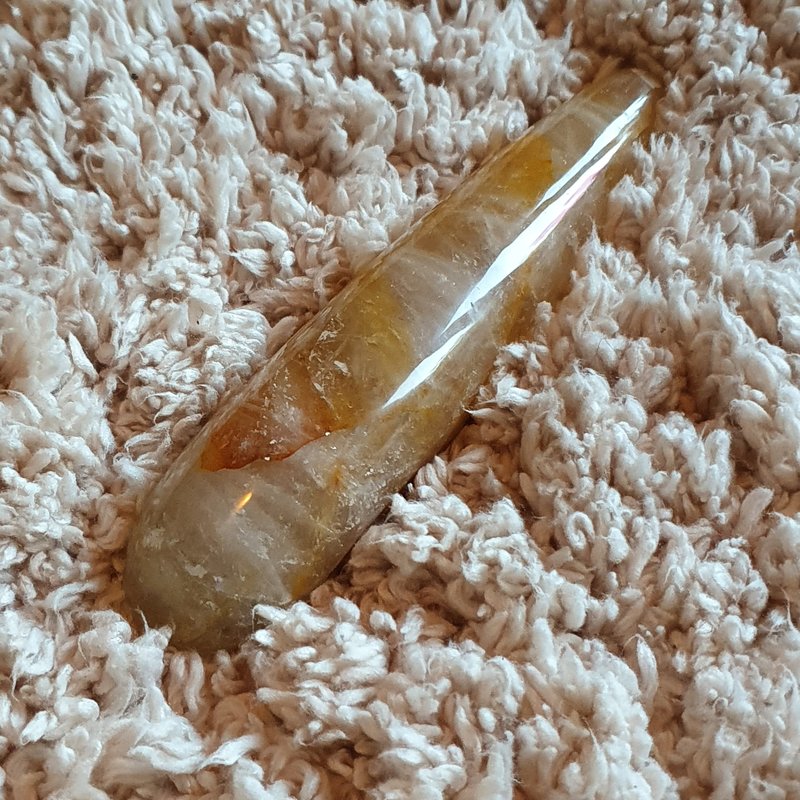 Size: 19 x 2-4,5 cm

Entrance 2 cm

Thickest point: 4,5 cm



Weight: +/- 470 gr

Material: Golden Healer crystal
Read more
We ship on: Monday, Wednesday & Friday
Personal attention
Packed with love
Free shipping from €100 in NL
The Empress Golden Healer yoni wand really is magical. She is a true healer with a loving and warm energy. She can be used for deep healing, a moment of sensual play or a sex magic practice to open your body for true love and abundance. She is magical!
Golden Healer is also called the Stone of Divine Essence. Her energy is one of pure love that brings lots of healing and comfort. She heals your yoni and the rest of your body due to her high vibrations.

She brings deep healing, balance and serenity in your body. The Golden Healer wand brings calm where there is energetic heaviness and stress. She works to heal within all areas of your being.
She is an amazing crystal to embody more and more of the 5D energy. She supports you in your spiritual journey, self-awareness and self-love. Her energy is really helpful with acceptance and transition. She repairs, heals and brings complete balance in your yoni and overall body and energy field.

The Empress Golden Healer yoni wand is an amazing wand for intuitive women, healers and coaches. Women who heal the world and therefore always have to come back to the most loving and healing energy in and for themselves.

Please note that the yoni wands are carved from raw crystal and each crystal is uniquely made. They are buffed and polished to be as smooth as possible. It is normal and natural to have natural inclusions present; differences in colors within a crystal; and minor surface imperfections. As long as there are no jagged edges or sharp fractures, your yoni wand is safe to use.
Reviews
There are no reviews written yet about this product.
Newsletter