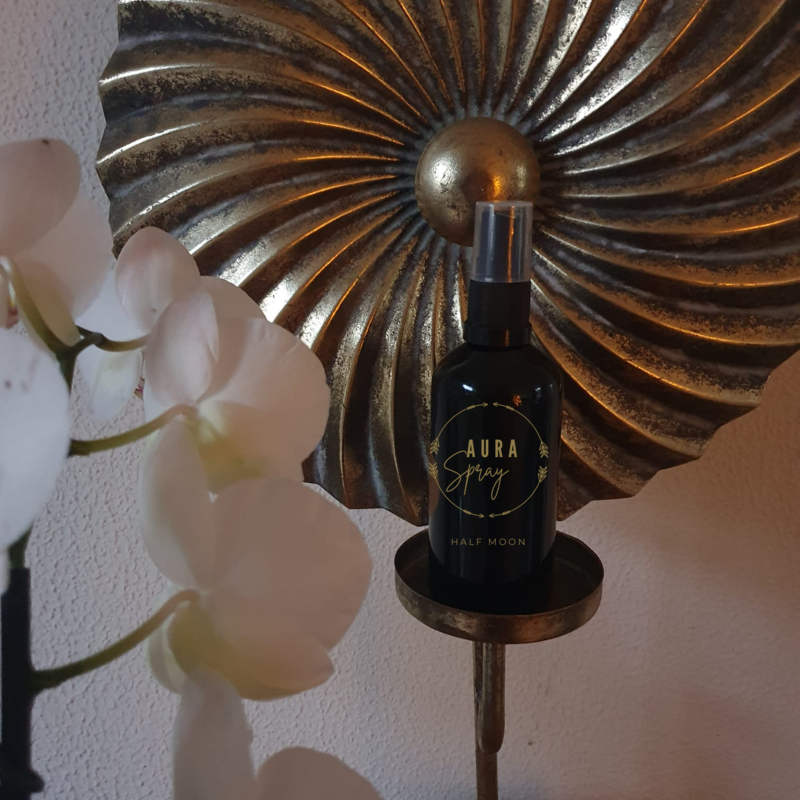 Half moon aura spray 100 ml with rock crystal, garnet, rose quartz and essential oils: Orange, clove, jasmine, ylang/ylang and Frankincense.
Read more
We ship on: Monday, Wednesday & Friday
Personal attention
Packed with love
Free shipping from €100 in NL
The SHE Half Moon aura spray directly supports you in your alignment. Not only in the two half moon phases but every time you feel misaligned she spoils you with her magic like a fairy godmother.

* Helps you be more intimate with yourself, your relationships and your desires.
* Breaks the cycle of burnout, hustle and not feeling good enough.
* Brings comfort and helps to let go of control.

Doesn't the moon have two different half moon phases? Yes, there are. Then why aren't there two different sprays? Half moon has been my most challenging moon phase for a long time. Both by the way. That's exactly why there is one spray for these two phases. Let me tell you more.

Half moon felt like a b*tch for a longer time in my life. Where everyone talked about full and new moon, half moon fascinated me in all kinds of ways. Her energy made me dive deeper into myself than I ever did before. She helped me heal my inner little girl and opened my heart when all I wanted was to close her off.

You can't manifest on deeper levels and with more ease if you bypass the half moon phases that sometimes felt like twilight zones to me. It was the time that had to be felt. No running, no hiding, no bypassing. Just being. Getting more intimate with myself. Healing, forgiving and getting ready to welcome in the new.

This spray is not your most fancy spanzy scent but she is magic. Just like the half moon phases herself. Magic, supportive and couldn't be clearer. Every woman should have her own little fairy godmother in a bottle.

Affirmation: I feel totally safe in taking all the time I need. I love being more intimate with my desires and really being present in my life and business. 

How to use: Spray in your aura and energetic body field. Close your eyes and take a moment to really smell the different scents of your spray. This way your brain will know all is well and you will immediately feel the calming and loving effects of this spray.

Use as many times as you want.
Take it with you wherever you go. 

SHE healing sprays are specifically designed to support you on your journey as a wild, magic and sexually healed woman in modern times.

Ingredients:
Moon water: To activate your magic spells and help manifest with more ease, joy and pleasure.
Rock crystal: activates your strength and brings clarity.
Garnet stone: activates your strength and divine commitment. An Egyptian symbol of life.
Rose quartz: emits strong vibrations of love and supports your emotional healing.
Orange: brings fresh energy and happiness.
Clove: helps to relieve stress and feel grounded.
Jasmine: Besides her amazing scent, jasmine is a mood booster and helps to feel more energetic.
Ylang/ylang: calms the mind and re-activates your sexual energy (and feel more alive)
Frankincense: helps to regulate fear and deeply anchors.
Alcohol
Reviews
There are no reviews written yet about this product.
Newsletter