Lilith Masterclass Bundle - The true embodiment of all of you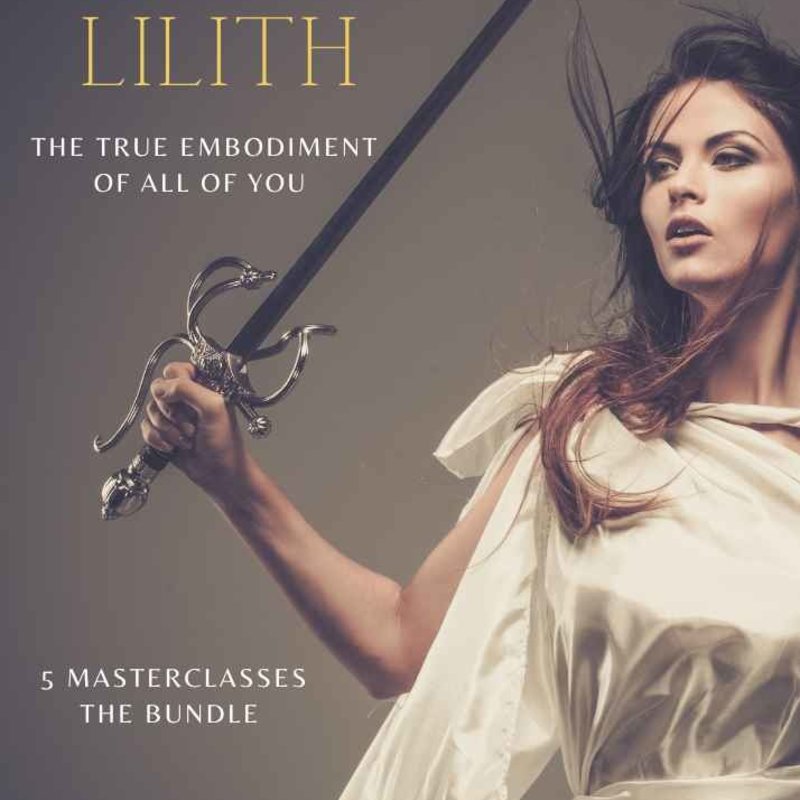 Lilith Masterclass Bundle - The true embodiment of all of you
Lilith Masterclass Bundle - The embodiment of all of you

Transmission of your Primal Dark Feminine



5 Masterclass Recordings

High level transmissions, healings and inspiration.

With the possibility to receive more 1on1 support.
Read more
We ship on: Monday, Wednesday & Friday
Personal attention
Packed with love
Free shipping from €100 in NL
Lilith - The Masterclass Bundle

Let her energy move through you,
your life and your business.

In a world full of Eve's, allow yourself to be Lilith. 

Masterclass 1: Your Initiation – The Transmission of your Primal Dark Feminine
Masterclass 2: Out of your Dark and into the Light
Masterclass 3: Be the Woman on Top
Masterclass 4: Open up to your Sacred Abundance 
Masterclass 5: The Empowerment of your Sensuality

Please note: The Masterclasses are in Dutch. Payment in two installments is possible. Send us an email on [email protected] to receive your installments payment link. 


--------
Below you will find more info about the energy and transmission of this Masterclass. Open your heart and let her words move through you.


Divine Feminine archetypes flow through your veins as a woman. They are part of you. Part of the woman you are today. Mystical wisdom, waiting in your body to be reclaimed. Fully ready to help you, as an intuitive woman, to fully anchor it all into your life, love and business. Always with ease and grace and by staying true to your unique energy.

So is the Lilith archetype. Her energy is powerful, penetrating and time and time again she turns her chaos into success. She knows what she wants and playing with her sensuality and powerful energy, she receives everything she desires.
Lilith is not afraid of her shadow and the role shadow work has in the creation process. When her shadow presents itself, she knows it is time to look within and alchemise it all into the light. Just alchemise and let the energy do the work.


You are allowed more. You are allowed more. You are allowed more.
You are allowed to desire more love, beauty and abundance in your life and business. I tell this to all my clients, all the time. You are allowed to receive more.
The world is full of women, still asleep and unconsciously afraid to stand out. This is not you and you know it. You were always different. You always felt life is here to be fully experienced. To create beauty in all you do. To experience more love that requires your heart to open, over and over again. To experience abundance in every facet of your life and business.

You are you and you are meant to be and do things differently.
You are here to do things differently. It's time to rule your world with an open heart.
For you.
For the women in your personal life and in your business.
And for the women in your family line for whom the energy is ready to be karmically cleansed. 
It's time to make a difference in a world where
the normal is no longer "normal" anyway. 
It is time!
Time to let her energy take up all the energetic space you are so ready for.
Time to let her energy work FOR you and not burn you out or you holding her smal by censuring her words before you speak.
Time to let her energy clear the blocks on the path to your desires.


Are you ready for more:
* Higher Feminine Energetics in your business and trust the energy of chaos and desire leading the way?
* Trust in your shadow sides and transforming them into the greater receptive power within you and your business?
* Being yourself within everything you do and your ideal clients finding you without you still having to push or pull so hard?
* Trust in your own energy flow and surrender to the business model that really suits you, your energy and desired life style?
* Freedom in your schedule while continuing to grow in business.
* Putting yourself out there in THE ONLY way that really feels good and suits you, so you can be and stay true to yourself?
In a world where everyone is struggeling to find a way to keep fitting in, even online, even in their own business...Lilith's energy is needed more than ever.
You are the brand of your intuitive business. Your ideal client comes for you, your words and your energy. This new energy and time requires you to always be nothing more than just you. In life, in love, in business.
Reviews
There are no reviews written yet about this product.
Newsletter