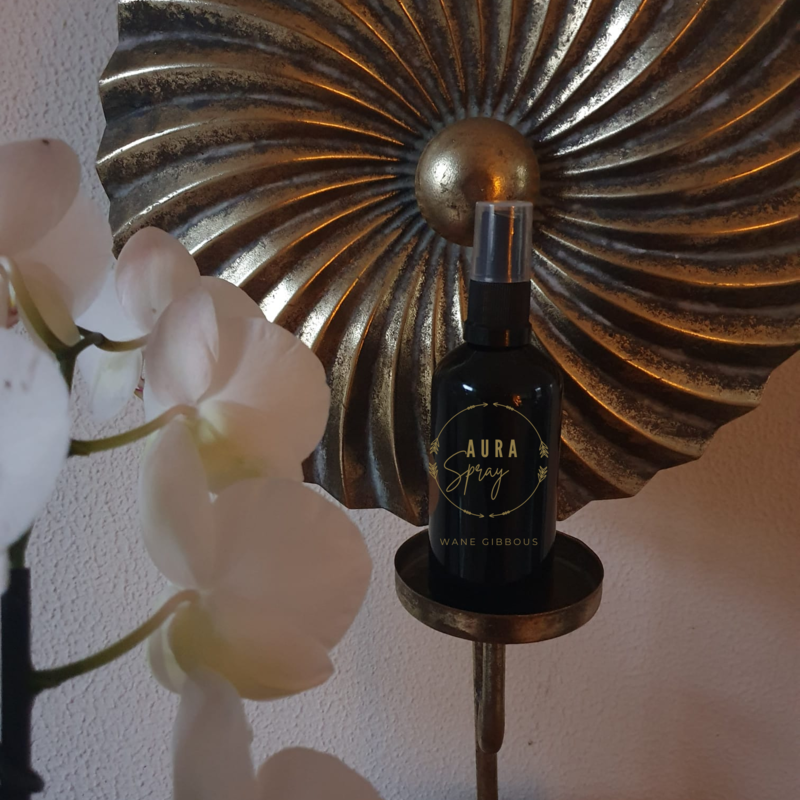 Wane Gibbous aura spray 100 ml with celestin, rock crystal, rhodochrosite and essential oils: Mother Earth blend, White Angelica blend and Frankincense.
Read more
We ship on: Monday, Wednesday & Friday
Personal attention
Packed with love
Free shipping from €100 in NL
The SHE Wane Gibbous aura spray supports your healing between half and full moon. This spray supports you in your deep healing. 
Helps to let go of old stories that keep themselves alive in your mind. 

Supports to stay focused on gratitude instead of shortage and hustle. 

Just as this moon phase she is perfect in support of letting go of bad habits. 
Created under the Wane Gibbous Moon. This spray supports your rituals that are focused on letting go or gratitude. We recommend this spray also when you are deepening your sexuality or healing sexual trauma.  

Wane Gibbous Moon is the phase that really helped me grow in deep trust. This spray was created to support you in building trust in your feminine flow in business. Her energy transforms your old stories that keep showing up in your life and business. 

In the days towards the full moon your energy wants to go inward. You can still birth new ideas and manifest big things but always from a deep knowing and trust in yourself. Wane Gibbous aura spray helps you surrender and open your heart for even more gratitude. 

This aura spray is created within a healing gemstone grid of green jade, muscovite and with the healing energy of Mother Mary. 

Affirmation: I open my heart for myself and the world. I invite gratitude in my heart and share this loving energy with the world. 

How to use: Spray in your aura and energetic body field. Close your eyes and take a moment to really smell the different scents of your spray. This way your brain will know all is well and you will immediately feel the calming and loving effects of this spray. 

Use as many times as you want.
Take it with you wherever you go.  
Our healing sprays are specifically designed to support you on your journey as a wild, magic and sexually healed woman in modern times. 

Ingredients: 
Moon water: To activate your magic spells and help manifest with more ease, joy and pleasure. 
Celestin: deepens your connection with the divine. 
Rock crystal: helps you feel gratitude and brings clarity.
Rhodochrosite: supports your sensitivity and opens your heart. 
Mother earth blend: helps to ground and calms the mind. 
White Angelica: supports deep healing and transforms old stories into new manifestations.
Frankincense: helps to regulate fear and deeply anchors. 
Alcohol
Reviews
There are no reviews written yet about this product.
Newsletter