Published on 3 f, 2022
•
By Cindy Stal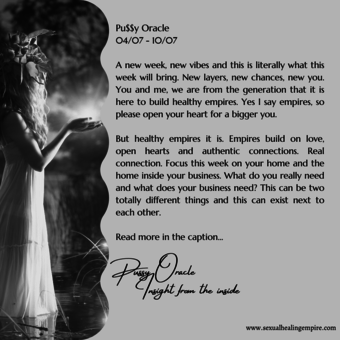 Pu$$y Oracle
04/07 - 10/07
A new week, new vibes and this is literally what this week will bring. New layers, new chances, new you. You and me, we are from the generation that it is here to build healthy empires. Yes I say empires, so please open your heart for a bigger you. 

But healthy empires it is. Empires build on love, open hearts and authentic connections. Real connection. Focus this week on your home and the home inside your business. What do you really need and what does your business need? This can be two totally different things and this can exist next to each other. 

I believe this is exactly why women sometimes get stuck in their business. Life takes over and the business gets ignored. Dear beautiful you, life will always take over. Let life take over this week AND stay grounded in your business. 

Your business needs you as the complete you. 
As a loving woman with an open heart for herself and the world. 
As a loving mom with all the attention for her kid(s). 
And as a loving woman for your tribe. 

But this is the thing you get to manage this week. Being all of you and see that the connection with your business never dies. You can be a mom and still do your social media. You can be in a discussion with your partner and still answer potential clients. You can be all of you and be all of the next level you in business.

Life asks you to be completely present and thankful in the now, do your healing when healing is requested and be the business owner you want to be. You got this. You really do. It's time for new ways of living and business. 

Time to build the life and business you want. 
Summers are magical for rebirths. 
Trust that September and October will bring you all you desire.
And that's my love is why we need you present now. 

In your body. 
In your life. 
In your business. 

Which one requires more attention this week? 
Have an amazing week! 

XO Cindy 
P.s. also give more attention to the one you believe already gets enough attention. Our mind tricks us more than we think.