Dearmouring - Embodiment classes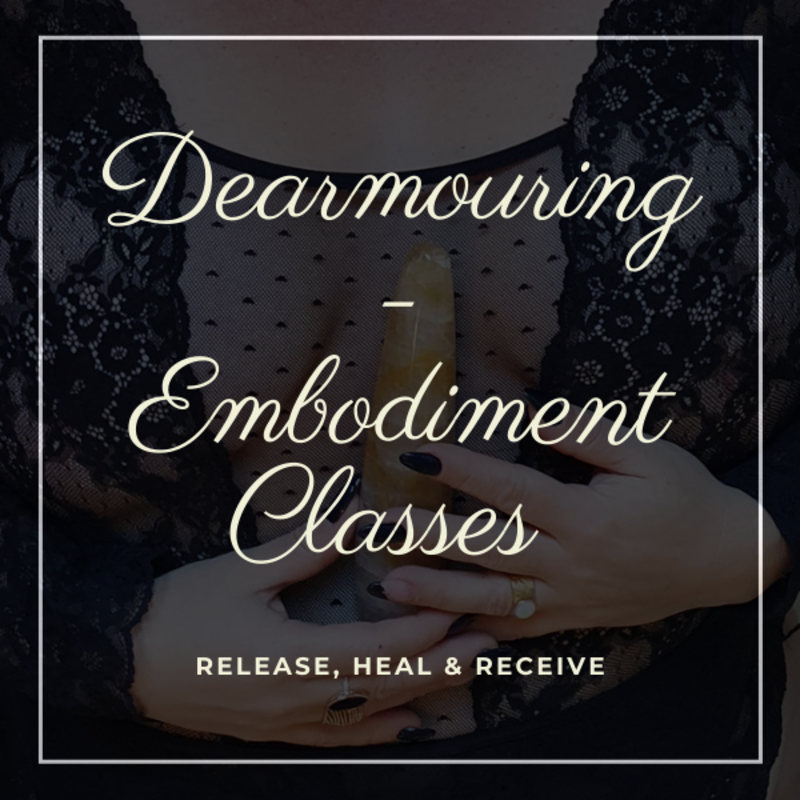 Dearmouring - Embodiment classes
We ship on: Monday, Wednesday & Friday
Personal attention
Packed with love
Free shipping from €100 in NL
Al weken verlang ik naar het vormgeven van een fantastische Space waarin ik deze prachtige embodiment tool aan vrouwen door kan geven.

Dearmouring is voor mij zo enorm van waarde geweest door de jaren heen. Ze werkt enorm helend. Transformeert super snel. En brengt je op alle lagen dichterbij jezelf, jouw intuïtie en jouw verlangens.

Het bijzondere is dat ik hierover nog niets gedeeld heb naar buiten toe en de aanmeldingen er toch al zijn. En dit is precies wat dearmouring voor mij doet: Magic & zoveel moeitelozer.

Wat ontvang je:

8 Dearmouring Zoom classes.

Mijn persoonlijke support in de FB groep.

Jouw SHE dearmouring wand naar keuze

.

Wanneer starten we en welke classes kun je verwachten:
Week 1: Opening Ceremony - your Sexual Revolution 
Week 2: Reclaim jouw ware sensualiteit 
Week 3: Reclaim de kracht van de schaduw en jouw Fierce Feminine 
Week 4: Zorgeloos en vrij creëren 
Week 5: Embodiment integratie week - geen nieuwe class 
Week 6: Ware rijkdom op alle vlakken
Week 7: Zichtbaarheid en zelfvertrouwen
Week 8: Erkennen en vergroten 
Week 9: Closing Ceremony 



Claim jouw ticket nu voor 1111€ of 3 termijnen van 371€. 




(*deze

bedragen zijn exclusief btw en in de shop worden ze incl btw vermeld)
De call data en tijden ontvang je een paar dagen voor de 9-weekse start. Alle classes kunnen terug geluisterd worden en zijn dus ook toegankelijk wanneer je er niet live bij kunt zijn. De replays volgen binnen 48 uur en je kunt ten alle tijden jouw vragen stellen in de Facebookgroep. 
In dit programma ben ik er 9 weken lang voor jou en is er de energetische space waarin jij grotere verlangens waar kunt maken. Heb je vragen of wil je even afstemmen, stuur ons een bericht en we nemen contact met je op. 

Claim your ticket when you feel her energy. If you prefer to pay in 3 terms, click here.
Reviews
"Wauw, deze 9 weken hebben me tot een andere nieuwe vrouw gemaakt. Ik voel me vrijer, denk veel minder na over wat andere van me denken en durf daardoor zonder ondergoed te gaan shoppen. Dit alles maakt dat ik me meer verbonden voel met mezelf, meer bij mezelf ben en kan blijven in diverse situaties waardoor mijn zelfbeeld is veranderd. Ik kan nu echt zeggen dat ik van mijn lijf hou in de staat hoe ze er nu op dit moment uit ziet. Dit was voor de training wel anders. Alleen maar haat-gedachtes. Zo dankbaar voor deze 9 weken en dat valt niet in woorden uit te drukken. Alle liefs Evelien"

Evelien Vorstenbosch on 20 Aug 2022
Newsletter