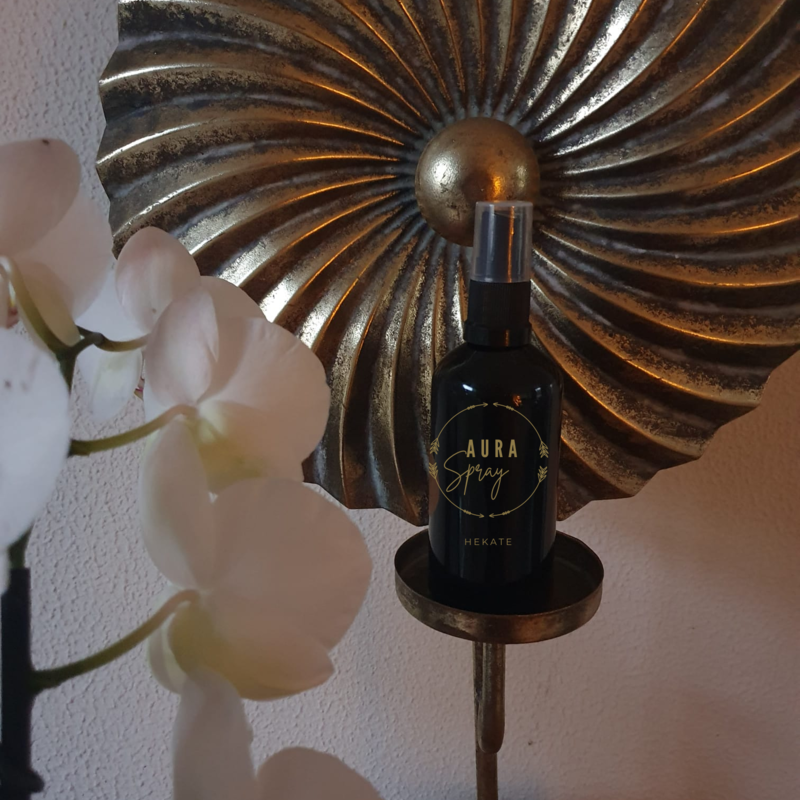 Hekate aura spray 100 ml with grenade stone, prehnite, moon stone and essential oils: Petit grain, clary sage, orange, geranium and Frankincense.
Read more
We ship on: Monday, Wednesday & Friday
Personal attention
Packed with love
Free shipping from €100 in NL
The SHE Hekate aura spray is always there when you find yourself at crossroad moments in your life and business.
Helps you feel more grounded. 

Opens your heart over and over and over again. 

Helps you keep holding the vision while feeling more ease in this 3D world. 
Created under the Full Moon. This spray carries the energies of Hekate and all she helped me download in my own journey. Hekate is a goddess which I have channeled and worked with a lot in my life and business. She helps you decide with more ease when you feel lost in the trap of your mind. 

Sometimes life can feel like one big cross road. One foot in new energies and one foot still rooted in the old. What to feel? What to decide? What to do? I have created the Hekate aura spray as your go-to in these challenging but amazing times in life. 

At SHE we love the depths of life. The highs and the lows. Being a true leader you have to learn how to hold both at the same time. Don't be afraid of the dark, chaos or the unknown. The Hekate aura spray helps you travel these mystical realms with more ease, joy and trust. 

This aura spray is created within a healing gemstone grid of pyrite, apophyllite, lapis lazuli and my favorite agate dragon.  

Affirmation: I always trust my inner wisdom. I always know the next step to take. I walk my aligned path with ease, joy and grace. 

How to use: Spray in your aura and energetic body field. Close your eyes and take a moment to really smell the different scents of your spray. This way your brain will know all is well and you will immediately feel the calming and loving effects of this spray. 

Use as many times as you want.
Take it with you wherever you go.  

Our healing sprays are specifically designed to support you on your journey as a wild, magic and sexually healed woman in modern times. 

Ingredients: 
Moon water: To activate your magic spells and help manifest with more ease, joy and pleasure. 
Moon stone: nourishes, awakens your sexual energy and washes negativity away. 
Prehnite: opens and softens your heart
Garnet stone: activates your strength and divine commitment. An Egyptian symbol of life.
Petit grain: helps ease feelings of tension and calms the nervous system. 
Clary sage: calms the mind and helps with the release of old energy blocks. 
Orange: brings fresh energy and happiness.
Geranium: supports your emotions by creating a calming and grounding effect. 
Frankincense: helps to regulate fear and deeply anchors. 
Alcohol
Reviews
There are no reviews written yet about this product.
Newsletter