Mystical pleasure - mystic merlinite yoni wand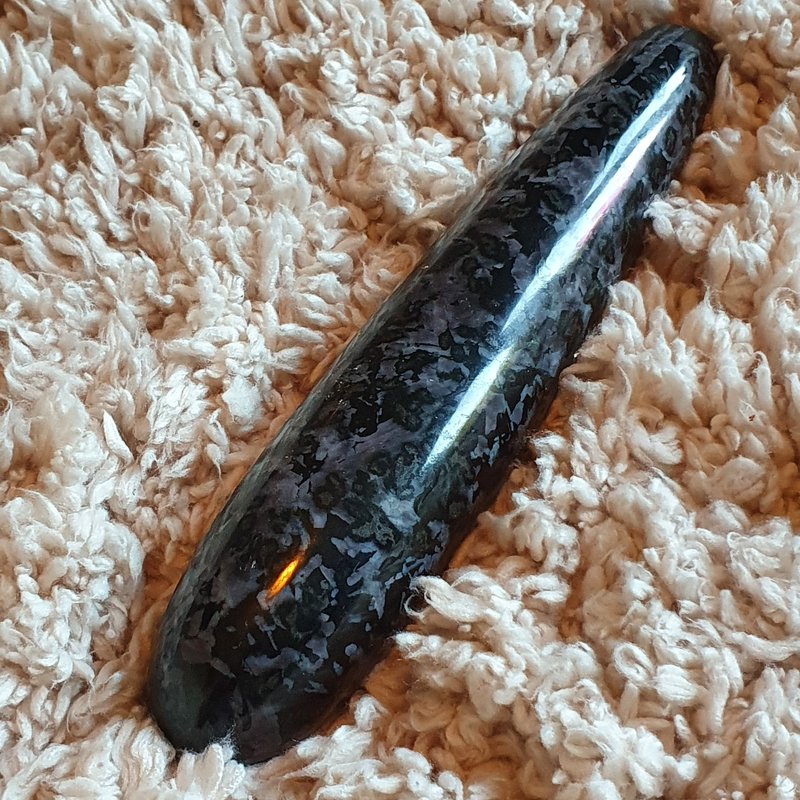 Mystical pleasure - mystic merlinite yoni wand
Size: 19 x 2-4,5 cm

Entrance 2 cm

Thickest point: 4,5 cm



Weight: +/- 470 gr

Material: Black Mystic Merlinite
Read more
We ship on: Monday, Wednesday & Friday
Personal attention
Packed with love
Free shipping from €100 in NL
This Mystical pleasure yoni wand lives up to her name: she opens your yoni and body to a whole new world of mystical pleasure. Higher intuition, slow but deep intimate growth and sensual playfulness are all vibes of this beautiful wand. She is a true addition to your crystal yoni wand collection.

The Mystical pleasure yoni wand brings healing to your root chakra. She activates your 3rd eye and opens your heart on a mystical level. These three combined makes her a true invitation to dive deeper into your yoni, heart and inner wisdom and passion.

Merlinite is a magical stone that helps you remember your shamanic, alchemist and priestess wisdom. She is perfect for past-life healing, transforming sexual trauma into gold and to bring harmony in your everyday life.

This yoni wand balances: work-pleasure, yin-yang, healthy masculine and femine, intellect and intuition. In short, she brings balance and healing where it is most needed.

This yoni wand balances and protects your aura, helps you ground spiritual wisdom and raises your vibrations. She doesn't hold back in revealing your inner truth and passions. And is your most loving helper in letting go of fear and insecurities.

This beautiful merlinite wand is your go to when you want to earth your deep priestess knowing and wisdom. She helps you trust intuition, slow and intimate over hustle, fast and the patriarchal way of living. She is your guide in this life where your spiritual wisdom is so needed. 

Please note that the yoni wands are carved from raw crystal and each crystal is uniquely made. They are buffed and polished to be as smooth as possible. It is normal and natural to have natural inclusions present; differences in colors within a crystal; and minor surface imperfections. As long as there are no jagged edges or sharp fractures, your yoni wand is safe to use.
Reviews
There are no reviews written yet about this product.
Newsletter