Queen of the heavens - labradorite yoni wand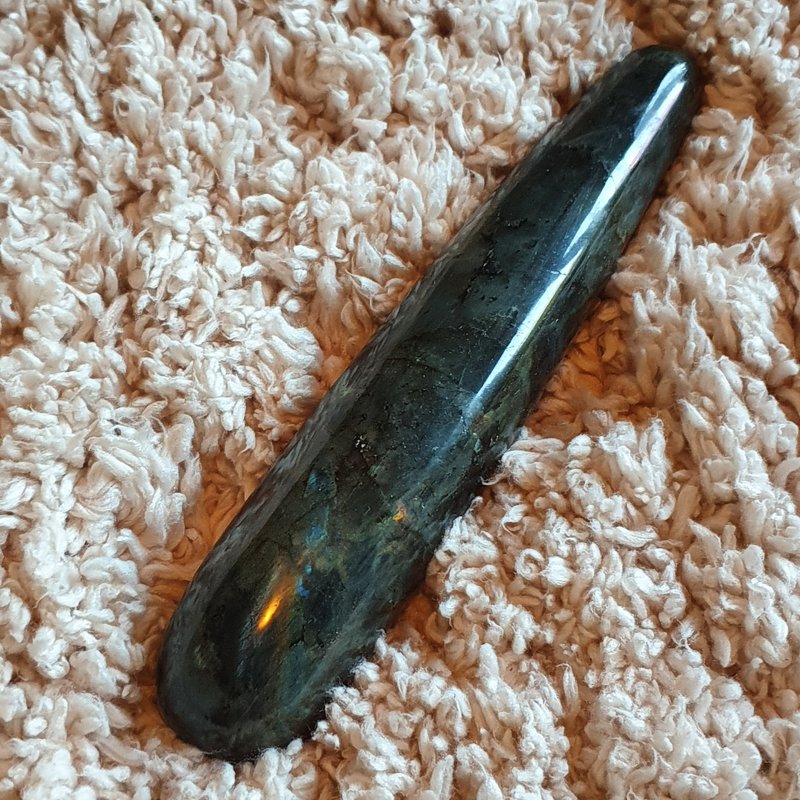 Queen of the heavens - labradorite yoni wand
Size: 19 x 2-4,5 cm

Entrance 2 cm

Thickest point: 4,5 cm



Weight: +/- 470 gr

Material: Labradorite
Read more
We ship on: Monday, Wednesday & Friday
Personal attention
Packed with love
Free shipping from €100 in NL
Queen of the heavens helps you transform your little princess vibes into your true wild wise woman energy. She helps you hold more energy and power and heals your healthy boundaries. She opens your heart and helps you stand your ground in all your passions.

When you look at all her beautiful flashes of green, gold and blue shot through her black color you know why we named her Queen of the heavens. This yoni wand is so helpful when you want to see through old patterns and find yourself in times of transformation.

This yoni wand helps coaches, healers and all types of mystical women to set new standards for themselves and travel between the universal realms with more ease.

Labradorite protects and helps to renew. She has a real wise, old warrior energy and helps you clear and protect your energetic body. She refreshes and brings beauty back in all the things life, love and business.

This yoni wand balances and protects your aura, helps you ground spiritual wisdom and raises your vibrations. She doesn't hold back in revealing your inner truth and passions. And is your most loving helper in letting go of fear and insecurities.

This beautiful labradorite wand is your go to when you want to strengthen faith in yourself and trust the universe on a deeper level. She opens your yoni and heart to share new ideas and bring out all the hidden enthusiasm.

Please note that the yoni wands are carved from raw crystal and each crystal is uniquely made. They are buffed and polished to be as smooth as possible. It is normal and natural to have natural inclusions present; differences in colors within a crystal; and minor surface imperfections. As long as there are no jagged edges or sharp fractures, your yoni wand is safe to use.
Reviews
There are no reviews written yet about this product.
Newsletter