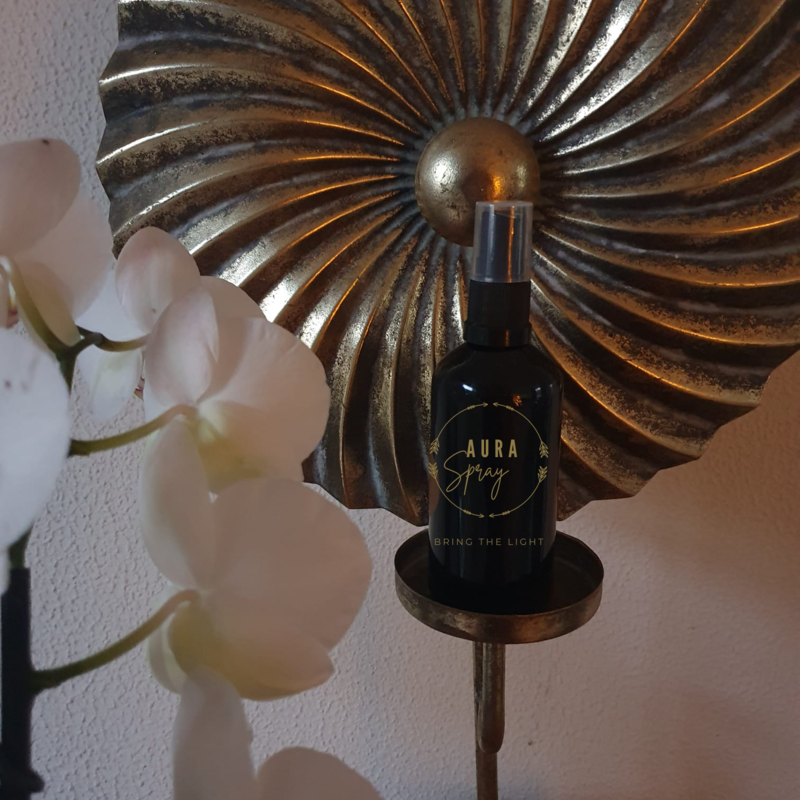 Sweet dreams aura spray 100 ml with Amethyst and Celestine stone and essential oils:

Angel Blend, Lavender, Sage and Frankincense
Read more
We ship on: Monday, Wednesday & Friday
Personal attention
Packed with love
Free shipping from €100 in NL
The SHE Sweet dreams aura spray 100 ml with Amethyst and Celestine stone and essential oils: our angel blend, Lavender, Sage and Frankincense. This spray has a little extra to bring calmness and the sweet to your dreams. Our SHE Sweet Dreams aura spray contains a little dried rose. 
Helps to calm the mind and relaxes the nervous system.

Heals and reset. 

Awakens your inner light. 
Our SHE Sweet Dreams aura spray is created under the loving energy of the Waning Crescent Moon. She does what her name says: she helps you have the sweetest dreams. However that definitely is not all she does. 
Her scent is really fresh and immediately refreshes your mind. She opens up your heart to let higher vibes in and helps to let go of energetic heaviness. 
Our SHE Sweet Dreams spray is perfect to spray on your pillow before going to bed. My son loves this spray as well and not only because he helped me create it. 
This aura spray is created within a healing gemstone grid of yellow jade stones and spirit quartz. 
Affirmation: I surrender. I trust. I let go and open my heart. 
How to use: Spray in your aura and energetic body field. Close your eyes and take a moment to really smell the different scents of your spray. This way your brain will know all is well and you will immediately feel the calming and loving effects of this spray. 
Use as many times as you want and take it with you wherever you go.  
Our healing sprays are specifically designed to support you on your journey as a wild, magic and sexually healed woman in modern times. 
Ingredients: 
Waning Crescent Moon water: To activate your magic spells and help manifest with more ease, joy and pleasure. 
Celestin: deepens your connection with the divine. 
Amethyst: opens your deeper wisdom and brings calmness to your body.
Angel blend: brings immediate support and a loving, warm energy to the nervous system.
Sage: calms the mind and helps with the release of old energy blocks. 
Lavender: cleanse negative energy and helps to calm the mind 
Frankincense: helps to regulate fear and deeply anchors. 
Alcohol
Reviews
There are no reviews written yet about this product.
Newsletter