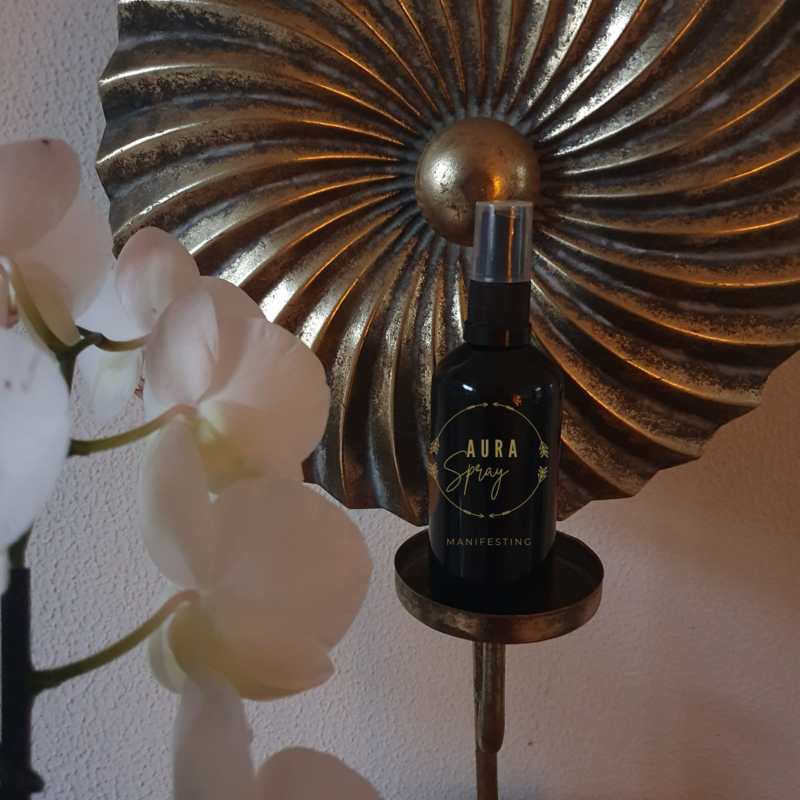 Manifesting aura spray 100 ml with moon stone, prehnite, carnelian and essential oils: Lavender, Lemon, Angel blend and Frankincense.
Read more
We ship on: Monday, Wednesday & Friday
Personal attention
Packed with love
Free shipping from €100 in NL
The SHE Manifesting aura spray truly lives up to her name: she is your manifesting partner in divine crime. Your spiritual BFF in a bottle. 
Helps you to walk your aligned path with grace and more ease. 

Brings more clarity about your future. 

Opens your heart and brings comfort. 
Created under the Full Moon. This spray supports you in reclaiming your true feminine. The Manifesting aura spray is your go-to when you want to uplift your energy, open your heart or want to welcome in your full manifesting power. 

At SHE we love the manifesting game of life. In life, love and business we believe every woman is worthy of receiving her deepest desires. This spray was created to support you in not settling for less than what you are passionate for. A woman is unstoppable the moment she realizes she doesn't need to settle. 

We love quantum leaps and we also love to trust the divine timing of the universe. To feel at ease in both divine action and divine resting, is your golden key in manifesting with ease and pleasure. The Manifesting aura spray helps you trust the Universe AND trust yourself more. You always know. You aren't made to wait for signs. You are your sign. 

This aura spray is created within a healing gemstone grid of yellow jade, red tiger eye stone and agate.  

Affirmation: I always know my next step to take. I trust the Universe. I trust myself. I live my life with more ease, grace and pleasure. 

How to use: Spray in your aura and energetic body field. Close your eyes and take a moment to really smell the different scents of your spray. This way your brain will know all is well and you will immediately feel the calming and loving effects of this spray. 

Use as many times as you want.
Take it with you wherever you go.  

Our healing sprays are specifically designed to support you on your journey as a wild, magic and sexually healed woman in modern times. 

Ingredients: 
Moon water: To activate your magic spells and help manifest with more ease, joy and pleasure. 
Moon stone: nourishes, awakens your sexual energy and washes negativity away. 
Prehnite: opens and softens your heart
Carnelian: motivates, activates self-trust and helps to feel rooted. 
Angel blend: brings support and a warm, loving energy.
Lavender: cleanse negative energy and helps to calm the mind 
Lemon: cleans and uplifts your energy field
Frankincense: helps to regulate fear and deeply anchors. 
Alcohol
Reviews
There are no reviews written yet about this product.
Newsletter